Student Services Team provides support to TVUSD students at all levels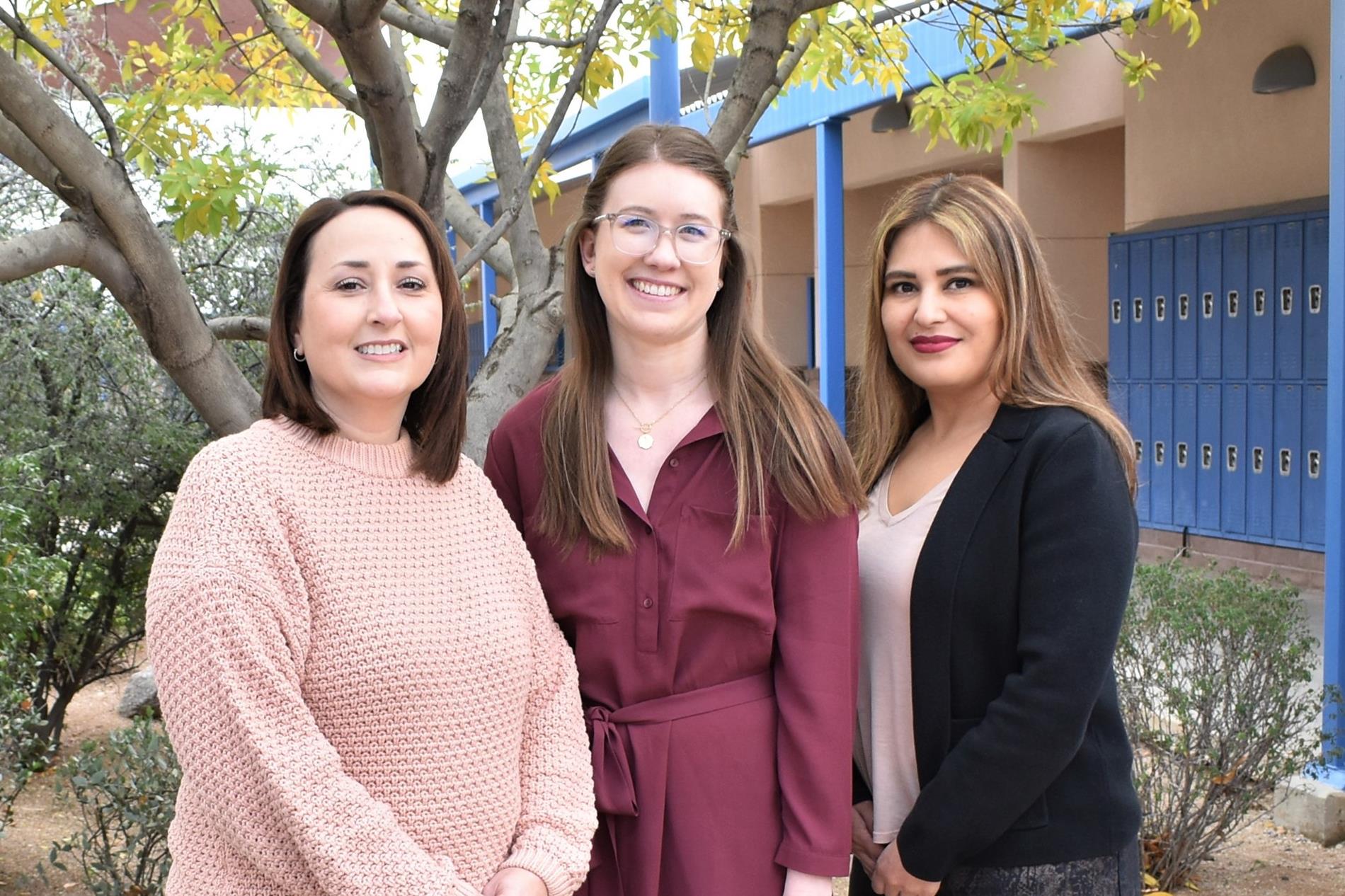 ---
The Student Services Department provides programs and support services for students. They strive to enrich the educational experience of each student through supporting students, teachers, parents, and the community. With this highlight of their department, we would like to introduce you to the team members and the services they provide.
Tiffany Hodge, Director
Tiffany began her career in education in 1994 as an Early Childhood Educator. At an early age, she worked as a preschool teacher and later as Preschool Assistant Director. Through this experience she helped develop a new childcare center along with its DES and DHS licensing. Her preschool experience allowed her the opportunity to work through the process of accreditation through the National Association for the Education of Young Children (NAEYC). Her work in preschool helped her realize her passion for the learning process and how teaching could help shape that process for children. Tiffany then went on to the University of Arizona and Prescott College where she obtained her Bachelor's Degree in Elementary Education with a Minor in Early Childhood Education.
Tiffany went on to teach in the elementary classroom for 13 years in both public and charter schools in the Tucson community. In 2016, she completed her certification in Reading Recovery and spent four years working as a Tier 3 Interventionist and Literacy Coach and Mentor. With her long-standing love of education and aspiration to be a school leader, she obtained an Educational Administration Degree and Principal Certification. In June 2019, Tiffany was chosen to take on the new role of Director of Student Services. An active member in the Tucson education community, Tiffany is a member of the Southern Arizona Special Education Administrators and the Tucson Regional Educator Collaborative, and she is a Pima County Superintendent's Office Energize Advisory Board Member.
Tiffany has taken an active role with the Pima County Superintendent's Office Energize project. Led by Director of Special Education for Pima County, Diane Kent, Energize is a professional development series designed to connect and inspire emerging, new, and continuing Special Education Leaders. Alongside former Special Education Directors Maura Clark-Engle of Tucson Unified School District and Kathleen McNaboe of Vail Unified School District, Tiffany and the team created a curriculum for participants to engage in an interactive series of lessons to prepare them for the Special Education leadership role in Pima County. The success of the Year One Cohort launched into a continuation for a second year as well as a much larger group for the Year Two Cohort. The success and impact of this program continues to grow in Pima County. Tiffany says, "Being able to work with this powerhouse of leaders has been so supportive in my role as a new leader. They each have so much to offer young and aspiring leaders in the community. Each time we get together there is so much shared among the group; everyone has something meaningful to offer. Energize is a place to connect with people who are doing the same work with the same goals and struggles. The best part is that we work together on solutions and leave feeling energized. We often reflect on how we named the program so appropriately."
Chandler Hybiak, Student Services Secretary
Tanque Verde recently welcomed Chandler Hybiak to the Student Services department this past summer. Chandler graduated in 2018 from the University of Arizona with degrees in Psychology and Communications. One of her areas of interest for research in college was dementia and how aging affects the brain. After graduating from the university, she went to work at a retirement community, collecting data on resident's cognition and participation in activities. This experience led her to her current position at TVUSD as the Student Services Secretary. Chandler is guided by Director Tiffany Hodge and Lead Psychologist Ivonne Olivas in managing student information and data on special education, open enrollment, student needs, and much more.
Ivonne Olivas, Lead School Psychologist
Ivonne Olivas is in her third year as Lead School Psychologist at TVUSD, and completing her 13th year as a practicing school psychologist. She attended the University of Arizona, where she received her Bachelors' in Psychology. Then she returned to the University of Arizona for graduate school where she obtained an Education Specialist Degree (Ed.S.) in school psychology and began working at Tucson Unified School District. She worked there for eight years before moving to Continental Elementary School District, a small school district in Green Valley, AZ. Working in different districts has required her to wear many hats, which allowed her to gain experience in the administrative side of special education as well as addressing students' academic and mental health needs. These work experiences have allowed her to work with diverse populations in southern Arizona and learn about the different needs across communities.
Ivonne is currently serving as a Southern Regional Director for the Arizona Association of School Psychologists (AASP). Here she strives to serve as an agent of progress in the recognition of the school psychology profession. As a member of TVUSD's Student Services Department, Ivonne works with special education staff to ensure that federal law and state regulations are being followed. She collaborates with staff and provides guidance so that they can navigate all that special education documentation requires. Ivonne also works with students and staff at Emily Gray Junior High School. The thing she enjoys most about her job is working directly with students. "I love seeing their faces light up when they problem solve or tell me a funny story."
This team of dynamic women keeps busy working on various projects for the district from the daily work of managing Special Education, online learning, and supporting Professional Learning Communities (PLCs), to the special projects they manage each year. Their current work focuses on leading a committee of Elementary teachers and administrators in selecting a new curriculum adoption for Kindergarten through 6th grade students. A former Literacy Coach, Tiffany Hodge, brings a vast knowledge of elementary literacy curriculum and instruction.
In partnership with Superintendent Dr. Scott Hagerman, Student Services facilitates Professional Development opportunities for teachers in the district. Special Education teachers will be participating in an onsite day of training with Yes We Can! author Julie Schmidt, on Friday, January 28th. Teachers will focus on the collaborative partnership between general and special education educators in the PLC process.
This coming February, 2022, 10 teachers from the district will attend the Summit on PLC at Work in Phoenix, gaining a deeper understanding of the PLC process. An additional group of 11 teachers and several administrators will attend an online training in February with Doug Fisher and Nancy Frey around the Success Criteria Playbook. Back by popular demand, Tanque Verde High School Teacher, Emily McIntosh (Profe) and Samantha Doyle, 3rd Grade Tanque Verde Elementary Teacher, will be facilitating Teacher Clarity training in February. Along with IT Director, Tony Blackwell, Student Services is working with Campus IT Leads to train staff on ViewSonic boards.
As the Winter turns to Spring Tiffany, Ivonne and Chandler will continue their focus on supporting student learning in TVUSD. The recent addition of Chandler Hybiak, Student Services Secretary, has added more positive energy to this small but mighty group. Tiffany says, "Chandler is everything we could ask for in a team member. She is a quick learner, action oriented, and always willing to help out. Having her as part of Student Services has allowed us to be more efficient and take on more responsibilities. With the additional work of online learning and the ELA adoption she has been instrumental in the functioning of our department. We are so fortunate to have her!"
In the Spring, they will prepare the district for state testing, begin to plan summer professional development, move to the new district office at the high school, continue to monitor grants, support intervention and enrichment programs, and support TVUSD teachers, students and staff wherever they are needed!