40/40 Award Winner, Mrs. Emma Batty, Tanque Verde Elementary School Principal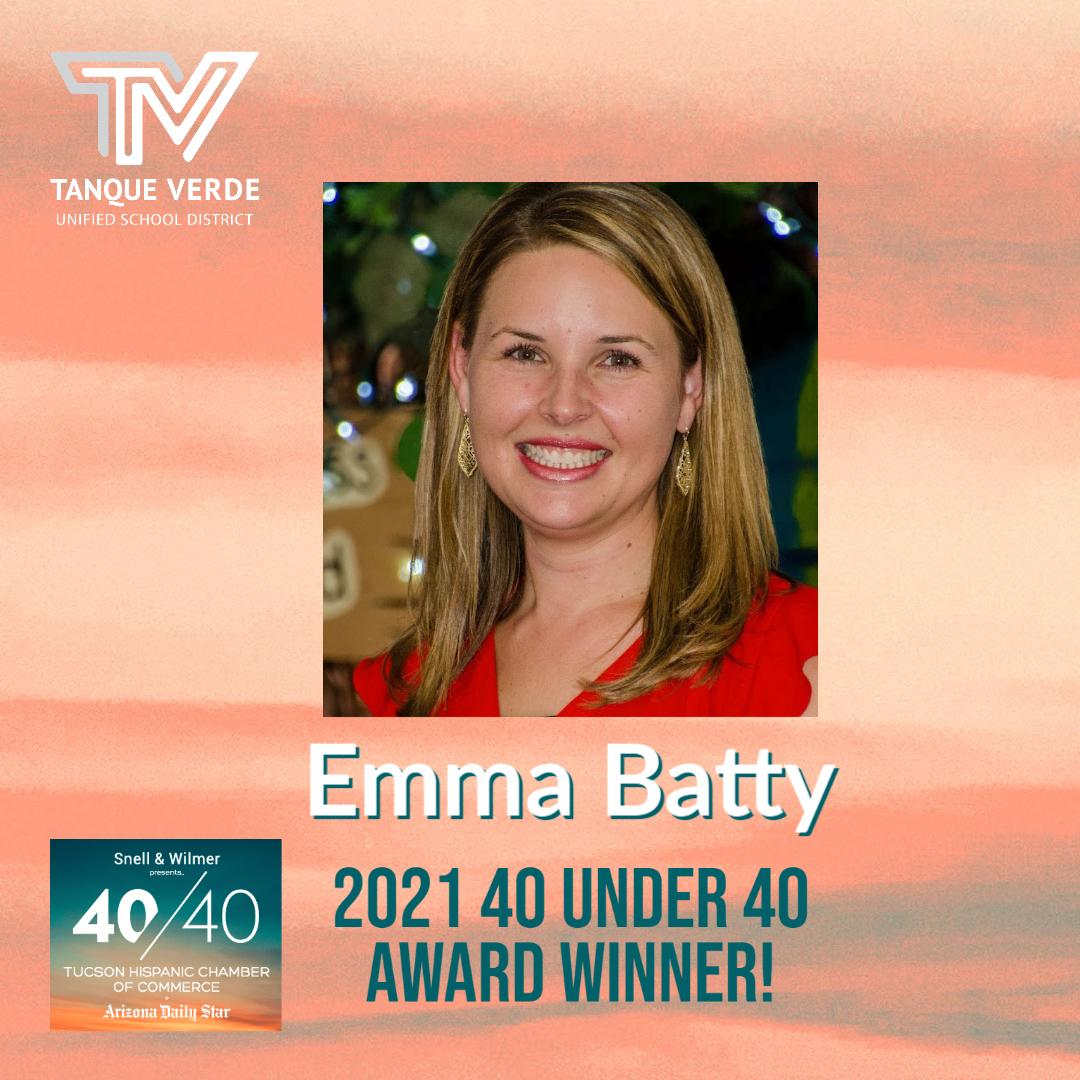 ---
40/40 Award Winner, Mrs. Emma Batty, Tanque Verde Elementary School Principal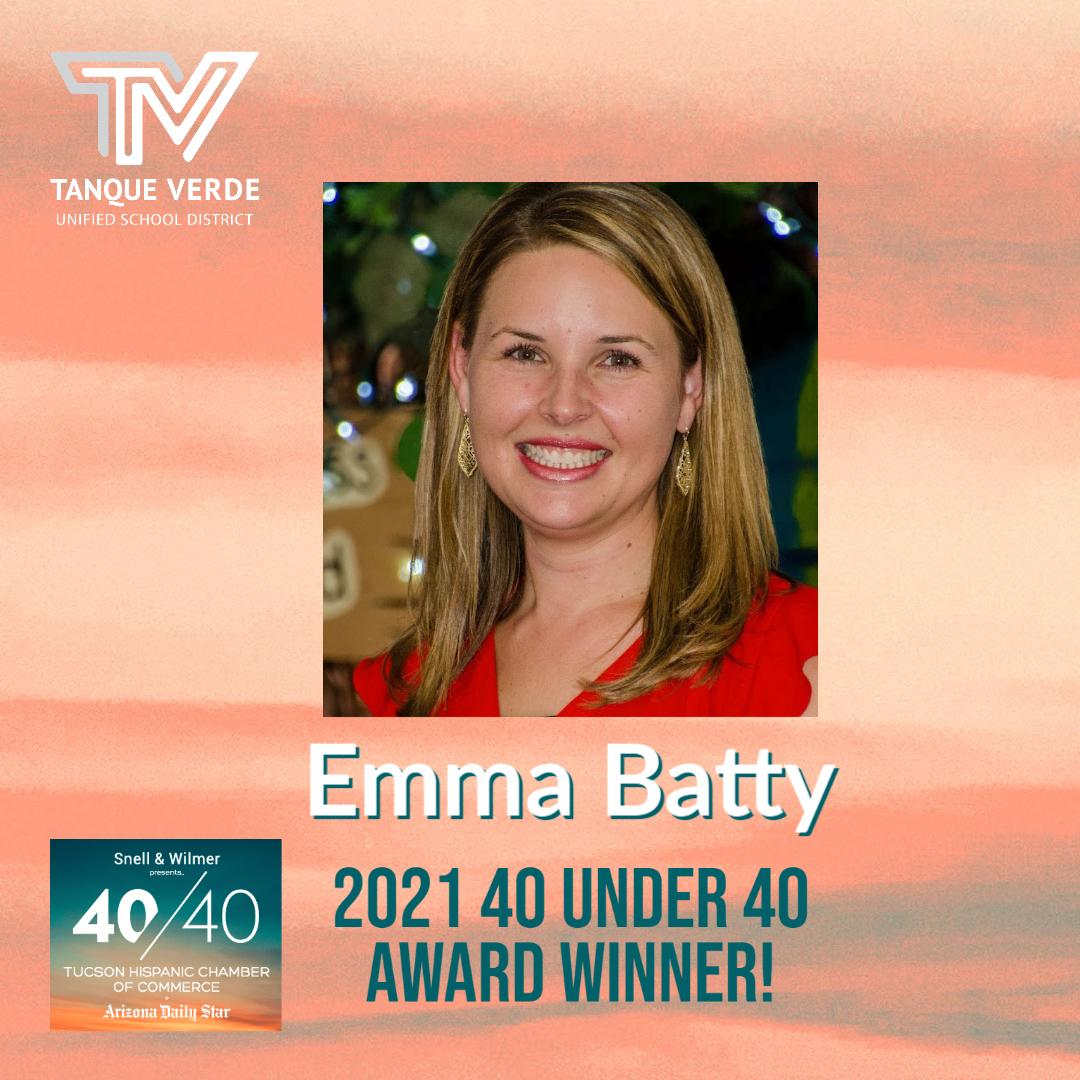 We are very excited to announce Mrs. Emma Batty, Principal of Tanque Verde Elementary School (TVES), has been selected as a 2021 40 Under 40 Award Winner by the Tucson Hispanic Chamber of Commerce.
Following are highlights from her nomination, submitted by the district:
Born and raised in Tucson, Arizona, Mrs. Emma Batty comes from a family of educators. She graduated from the University of Arizona with a BS in Elementary Education and an MS in Educational Leadership, and she has distinguished herself as a leader throughout her career.
Mrs. Batty's career highlights include being selected as a RODEL Student Teacher, working in TUSD in various roles including with English Language Learners and as the Learning Supports Coordinator, before moving to Continental ESD as the Director of Student Services. In 2017, Mrs. Batty became Assistant Principal at TVES and she was then promoted to Principal in 2018.
Mrs. Batty's positive spirit, leadership ability, and charismatic charm have endeared her to staff, students, parents and community members alike. She has been instrumental in raising the school's achievement level, from a 'C' to an 'A' grade in the ADE's school grading system. Notably, the first Tanque Verde Community Preschool was opened in 2019 under her leadership, and with her support, TVCP director, Kristen Kvaran, was recognized this year as a United Way Annual Literacy Champion Awardee. Mrs. Batty also created a leadership team to increase staff input into decision making.
Her involvement in local organizations that support education in our Tucson community, includes her service on the Rincon Rotary Board. This year Emma was the incoming Director of Rotary Local - which helps educators in Tucson through service and direct financial assistance. She is also a member of the U of A Professional Preparation Board.
In keeping with her own positive outlook on life, Emma Batty has dedicated herself to successfully building the Ben's Bells Kind Campus Program with her school community. Working initially as a model Kind Campus for the Tanque Verde District, Mrs. Batty has grown the program significantly through community partnerships and collaborations. Sheworked to secure funding to purchase children's literature for the school's classrooms and library that focuses on teaching children more about kindness and empathy.
Most recently, she worked with Rincon Rotary on the installation of a Peace Pole on campus, and a rainbow-colored "Buddy Bench" on the playground. If students need a friend to play with, they can sit on the buddy bench to let others know. The buddy bench encourages acts of kindness for someone in need. The TVES Peace Pole will be dedicated at the school on November 18, 2021.
With the support of a community business sponsor, Agility Physical Therapy, the TVES Kindness Program has been expanded into a district-wide initiative recognizing both students and teachers who demonstrate kindness in their daily lives and teaching, with a monthly belling. A community member who resides near the elementary school was also belled, after volunteering her time and materials to a school beautification project.
"Emma has brought a significant level of happiness, joy and excitement to the school," noted TVUSD Superintendent, Dr. Scott Hagerman. "Through her own acts of kindness and the positive leadership she displays daily, Emma has helped support students learning at higher levels, and teachers embracing a growth mindset with their students. She makes everyday a great day for the whole community."
When schools across Tucson abruptly closed in March 2020, Emma went into action with her colleagues, working collaboratively to form an emergency action plan for our district's response to the pandemic school-closures, including how to support student achievement during remote-learning. Her primary focus was how to keep students and families safe and engaged in learning. Emma created and collaborated onTV Learns, a remote-learning channel which features personal messages, read-aloud stories, 'hands-on' science lessons and activities, to keep students engaged in learning, and connected to their teachers and classmates, while learning from home.
"One of the best ways to describe Emma is that she is an eternal optimist," stated Julie Laird, Assistant-Principal at TVES. "She finds the best in every situation. This has been particularly helpful while we have faced the challenges associated with teaching in a pandemic. She constantly strives to empower teachers to be the best they can be. She listens carefully to feedback she receives and uses it to inform her decisions, which are always based on what is best for children."
Not only was Mrs. Batty effective in keeping students and families engaged, but students' state-level test scores improved significantly during the pandemic - while state averages declined. As schools moved back into in-person learning, Mrs. Batty collaborated with the TVES Parent-Teacher-Group and a parent donor to acquire new shade structures and tables for the campus to create needed outdoor learning spaces. (The completion of this project has been delayed due to weatherization projects and construction on campus). In a year fraught with challenges, uncertainty and numerous changes, Emma Batty's leadership shined through, and her students and teachers continued to thrive.
Learn more about the 40 Under 40 Awards and see the list of award winners, here: https://www.tucsonhispanicchamber.org/40-under-40-awards